Travel & Accommodation and Getting around Wellington
Travel and Visitor information
Accommodation
Out and About in Wellington
Travel and Visitor Information
Visas
US nationals do not require a visa to enter New Zealand for a period of less than 3 months. However you can obtain uptodate information on immigration and visas here.
Arrival in NZ
Participants should plan to fly to Wellington International Airport (WLG) but, unless travelling via Australia, will probably arrive in New Zealand at either Auckland (AKL) or Christchurch (CHC) International Airports and transfer there to a domestic flight. At Auckland a free shuttle is available between the international and domestic terminals or transferring passengers can take the short 10-minute walk, which is clearly marked. Christchurch and Wellington have single terminals catering for international and domestic flights. Alternatively you may want to travel the scenic routes to Wellington by car, bus, train and/or ferry. In that case you should allow two days for comfort. Cars can be hired for around NZ$50-80 per day, depending on vehicle and length of hire. At Wellington Airport, taxi stands are located directly out of the ground floor entrance of the terminal. A taxi from the airport to the city will cost between NZ$25-NZ$35, and will take around 20 minutes, though it may take longer during Wellington's rush hours/commute (weekdays between 8.00-9.00am and 4:30-5:30 p.m.). A number of companies run door-to-door shuttle services from the airport to Wellington city. Shuttles are located on the ground floor level at the southern end of the terminal. The airport-to-city trip costs around NZ$15, although couples or groups may qualify for discounts. The trip to the city should take around 30 minutes, depending on where passengers are dropped off. The Airport Flyer is a bus service between the airport, Wellington City, and the Hutt Valley. The bus stop is on the ground floor level at the southern end of the terminal. Buses depart approximately every 30 minutes, but hourly in the early morning and at night during weekends. The fare from the airport to Wellington city is NZ$4.50 for adults and NZ$2 for children. The Stagecoach Flyer makes a number of stops including all bus stops through the city center. The trip to the city takes about 45 minutes.
Location and Maps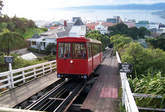 The conference will be held in the Alan McDiarmid Lecture Theatres on Victoria University's Kelburn campus. The campus is set on an escarpment overlooking the city so is an uphill walk (typically around 15 minutes) from most of the accommodation. However the Te Puni residence hall is nearby and only requires a modest 5-minute walk uphill. The city's cable car has a stop adjacent to Weir House and near the main campus. The bus routes 17, 18, 20, 22 and 23 pass the university. All except number 18 also pass both the Quest hotels. Timetable information is available from
Metlink
. The relevant bus stops are near the Easterfield Building, and are labelled 4 and 12 on the campus map. The
Journey Planner
will sometimes give walking times as well as times for all forms of public transport. Kelburn village is a 10-minute walk up from the university and contains very good delicatessens, cafes and restaurants as well as a good variety of local shops. The University website has a
page
with maps, transport and parking information. You can download a map of the University's Kelburn campus or link to an online searchable map of Wellington. You should be able to locate Victoria University, Te Puni village, Weir House and most of the accommodation listed above as places in Wellington.
Climate
December is early summer in New Zealand, and the weather is generally mild and sunny but can be damp.
Power Supply
The electrical standard in New Zealand is 230 volts AC at 50 Hz. Power sockets use a 3-pin plug and are compatible with Australian power sockets so electrical equipment from US or Europe is likely to require an adaptor plug. See here or here for diagrams. Please check before you plug in any appliance or equipment that you bring with you that it can operate safely with 230V AC/50Hz power. Power adaptors for laptops will almost certainly be able to handle the supply.
Cost-of-living/Exchange Rate
The cost of living is reasonable. Petrol is around $2.20 a litre, coffee is typically $4.00 for a long black, or latte, a loaf of bread is $3.80-$4.50, a filled roll $6.00-$8.00. Exchange rates at 19 May 2011: $1.00 US = $1.28 NZ.
Tipping
New Zealanders do not generally follow the custom of giving a tip to waiters, porters and other service people, such as taxi drivers, hairdressers etc. However, tipping is appropriate in the more expensive restaurants and hotels - particularly if you have received unusually good service. A tip of between five and ten percent of the total bill is appropriate.
Tourism
See
New Zealand tourism online
and
WellingtonNZ
for more information.
Accommodation
On-campus Accommodation
There is one on-campus accommodation option, Te Puni village.
Te Puni Village
Te Puni village is on-campus VUW Residential Halls. The cost per nite is $77 including GST and breakfast, for single accommodation with shared shower/toilet facilities. The options available are:
5 nights from 15th to 20 December 2011, $385
6 nights from 14th to 20 December 2011, $462
7 nights from 13th to 20 December 2011, $539
With accommodation at Te Puni, there will be no reimbursements once booked and paid for. Opening Reception hours: 8.30am to 5.00pm - Monday to Friday If you are to arrive outside of these hours the number you must call is: 027 563 9220 Breakfast times at Te Puni Village are: 14th Dec - 7.00am to 8.30am 15th Dec - 6.30am to 8.00am 16th - 20th Dec - 7.00am to 8.30am
Other options
A good guide to local accommodation may be found
here
. Anywhere in the downtown area is within walking distance of the university.
Mercure Hotel Wellington
, The Terrace Mercure Hotel Wellington, 345 the Terrace, 04 385 9829
$125 per room including breakfast per night or
$140 per room with breakfast and 100MB internet
Please quote "Asian Logic Conference" and select which rate you require when booking. Bookings can be made by emailing
h1991-re01@accor.com
Attention: Mandar. For more accommodation options, as well as travel information consult any of the following: Special rate offered: $166.60 standard room
Out and About in Wellington
Find out about
Wellington
. And
what's on
in Wellington or slightly further
afield
.
Conference Dinner
There will be a conference dinner on the evening of Friday 16th December at the
Intercontinental
, 2 Grey Street. The cost is $70 per head. Pre-dinner drinks will commence at 6.30pm followed by dinner at 7pm. Extra tickets will need to be indicated on the registration form.