Conference Excursions
There is plenty to see and do in Wellington! SEEM2019 has selected the following for registrants and their partners on the afternoon of Tuesday 3 December. You may of course choose to do your own thing.
Zealandia
The Zealandia ecosanctuary is close to the University: a 30 minute walk, or 10 minute bus ride away. Zealandia (
http://www.visitzealandia.com
) was the first mainline fenced sanctuary in the world. It has a wide variety of New Zealand native and endemic birds, and also tuatara. It is open until 5pm, although there are night tours available (booked in advance).
Getting there:
Walking: head out of the university onto Kelburn Parade, and up Glasgow St. See the map below.
Bus: on Kelburn Parade, right outside Vic Books, catch the 2, 18e, 21, or 22, getting off just after the tunnel, then walk 350 metres down Waiapu Road.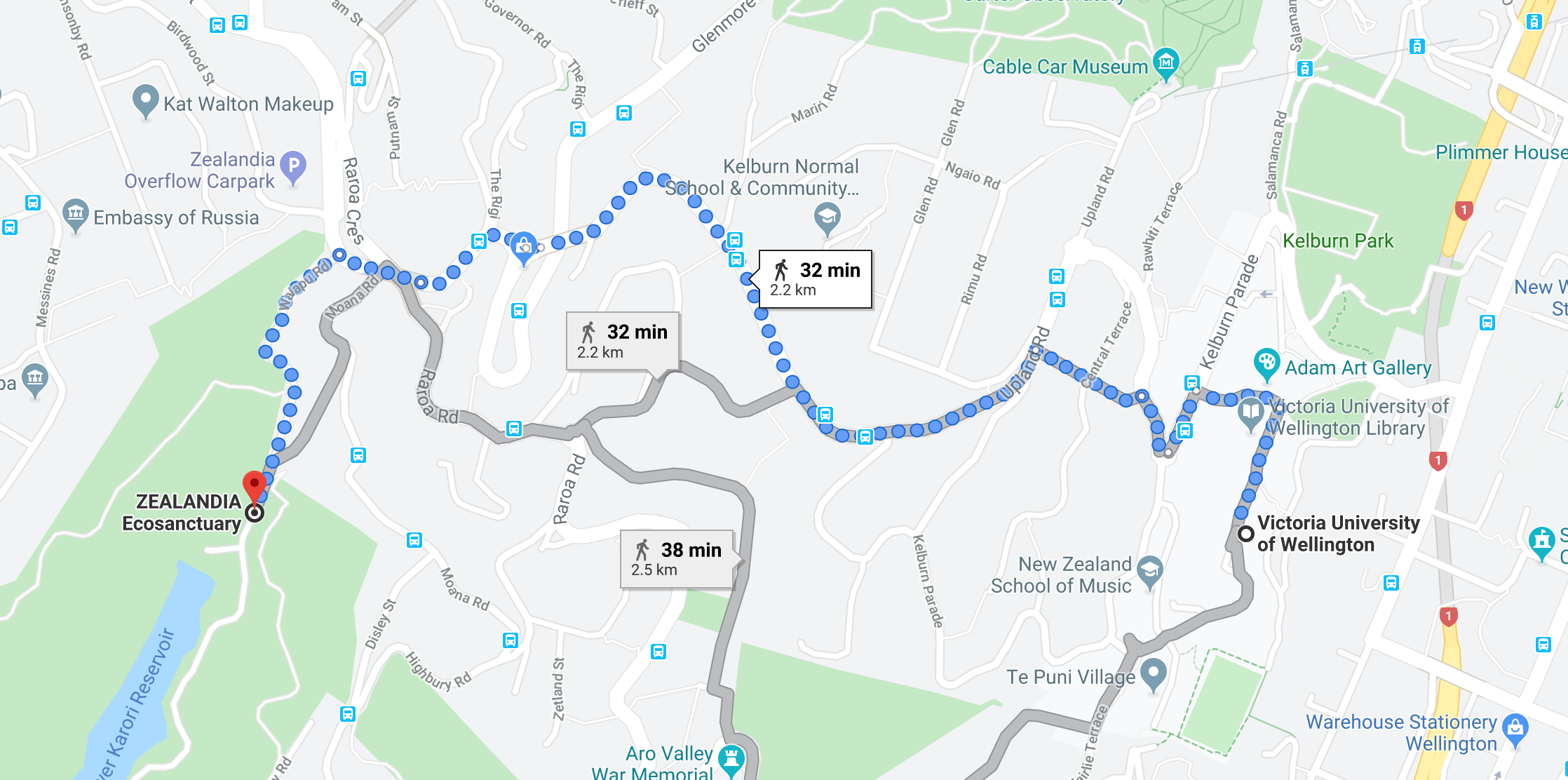 Matiu/Somes Island
Right in the centre of Wellington harbour is a scientific reserve island:
https://www.doc.govt.nz/parks-and-recreation/places-to-go/wellington-kapiti/places/matiu-somes-island/
Getting there:
Access is by passenger ferry from Queens Wharf, a 20 minute walk from campus. See the map below. The ferry is run by East by West, and their website (with timetable) is here:
http://eastbywest.co.nz/
Note every ferry stops at Matiu. In particular, the last ferry off the island is at 3:30pm on weekdays, unfortunately.
Island Bay Snorkel Trail
The waters of the South Coast aren't especially warm, but they do have amazing sea life. You can see for yourself if you have a snorkel and mask, with the snorkel trail
https://www.wellingtonnz.com/discover/sights-activities/island-bay-snorkel-trail/
.
Getting there:
A bit of a mission without a car, but possible. Walk down to Taranaki St in the centre, and catch the 3 for Lyall Bay. At the end of the line, walk along Queens Drive until you see somewhere to get into the water.
Botanical Gardens
https://wellingtongardens.nz/our-gardens/wellington-botanic-garden
Getting there
: Walk up the Glasgow St from campus, and turn right at the top. You will reach the cable car museum, and the gardens are on your left.
Polhill Reserve
The closest reserve to campus is Polhill
https://wellington.govt.nz/recreation/enjoy-the-outdoors/walks-and-walkways/across-the-city/polhill-reserve-loop
Getting there:
From Kelburn Parade, follow Fairlie Terrace and then head down Devon St. Turn right when you get down on to Aro St, cross the road, and then look for entrances to Polhill Reserve. Try and avoid the mountain-bike only paths unless you are on a mountain bike! Finish your walk with a trip to the Garage Project Taproom (see below).
Useful information on Wellington
Pubs
Wellington has an embarrassment of good pubs with local beer. A very small selection of good options are (in approximate distance from campus):
Kelburn Village Pub: up Glasgow St from campus, turn left and walk along to the Kelburn Village (10 mins). The pub is the left-hand side.
Garage Project taproom: on Aro St, so head down Devon St from campus.
Fork and Brewer: Bond St (off Victoria St)
The Temple of Taste/Third Eye: on Arthur St. Walk down to the centre of town, then up Cuba St (away from the sea), turn left onto Arthur St.
Black Dog Brewery: on Cuba St, close to the corner with Abel Smith St.
Rogue and Vagabond: in a small plaza between Ghuznee St and Garrett St.
Goldings Dive Bar: Leeds St (off Ghuznee St)
Fortune Favours: Leeds St (off Ghuznee St)
The Malt House: on Courtney Place
Panhead: corner of Tory St and Wakefield St
Mac's Brewbar: Taranaki St wharf
Maps
Kelburn Campus maps can be found at here
Transport
Other places to visit
Wellington
is the Capital City of New Zealand . It is serviced by international
flights
direct from Brisbane, Melbourne and Sydney, as well as flights from major NZ cities. It is the perfect spot for those who wish to explore Wellington pre- or post-conference.
Sights & Activities
- Wellington's a city where having fun is easy. You can meet meerkats, kiwis and cave trolls on the same day. Paddle on the harbour in the morning, mountain bike in the afternoon. Galleries for breakfast, museums for lunch and theatre for dinner.
Eat and Drink
- Wellington has an endless appetite for new cafes, bars and restaurants, as well as legendary favourites. Plus, with world-renowned coffee, vineyards up the road, and the hip hops of our craft beer scene, there's always something delicious on hand to wash it down.
Shopping
- From boutiques stocking local and international designers, to quirky gift stores, Wellington is a treasure trove of beautiful new things. Street markets, antique, vintage and second-hand stores hold one-of-a-kind creations to uncover. Here are suggestions for some places to visit: